Fireplaces, stoves and fireplace inserts need to be vented to the outdoors (except for electric fireplace models). There are several ways to route venting, and the direction can depend on the type of hearth product it is, and the fuel it burns.
How it works:
Direct Vent Gas Fireplaces – most are vented to the outdoors horizontally directly through the wall, but they can also be routed vertically through the roof.
Wood Fireplaces and Stoves – venting must be terminated to the outdoors vertically.
Pellet Stoves – most are vented horizontally, directly through the wall to the outdoors.
Fireplace Inserts – most are vented vertically through the roof, via the existing chimney.
Electric Fireplaces – no venting is required.
This infographic illustrates venting options, and also basic construction steps necessary when having a fireplace, stove or fireplace insert installed.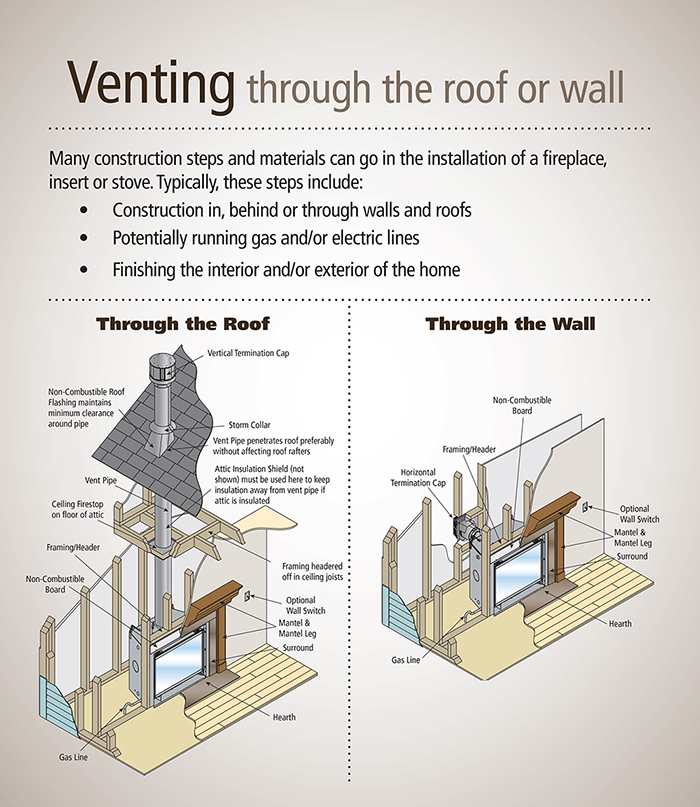 Power venting technology
No matter where you want to install your gas fireplace, power venting technology makes it possible. This extremely flexible, versatile technology is small enough to effectively navigate you home to an effective vent location, which in turn provides you with optimal performance, every time.